The Legal Aid Network of Kentucky offers free civil legal services to Veterans who are financially eligible.  Financial eligibility is based on income and assets available to the household. 
You can access this free civil legal assistance by calling the Veterans' hotline at 1-844-268-0VET (1-844-268-0838).
When calling this toll-free number you will be asked to identify which of the service areas you reside in and it will then route you to a legal services professional dedicated to assisting veterans.
The map below represents the four service areas and the number associated with each service area. If you still are not certain (or if it's complicated), dial "5" to speak to a legal service professional who will help get to the right destination.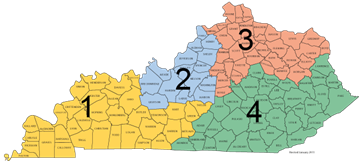 Dial "1" for Counties Served by Kentucky Legal Aid:
Allen, Ballard, Barren, Butler, Caldwell, Calloway, Carlisle, Christian, Crittenden, Daviess, Edmonson, Fulton, Graves, Green, Hancock, Hart, Henderson, Hickman, Hopkins, Livingston, Logan, Lyon, Marshall, Metcalfe, McCracken, McLean, Muhlenberg, Ohio, Simpson, Taylor, Todd, Trigg, Union, Warren, Webster
Dial "2" for Counties Served by the Legal Aid Society:
Breckinridge, Bullitt, Grayson, Hardin, Henry, Jefferson, Larue, Marion, Meade, Nelson, Oldham, Shelby, Spencer, Trimble, Washington
Dial "3" for Counties Served by Legal Aid of the Bluegrass:
Anderson, Bath, Boone, Bourbon, Boyd, Boyle, Bracken, Campbell, Carroll, Carter, Elliott, Fayette, Fleming, Franklin, Gallatin, Grant, Greenup, Harrison, Jessamine, Kenton, Lewis, Mason, Menifee, Mercer, Montgomery, Morgan, Nichols, Owen, Pendleton, Robertson, Rowan, Scott, Woodford
Dial "4" for Counties Served by Appalachian Research and Defense Fund:
Adair, Bell, Breathitt, Casey, Clark, Clay, Clinton, Cumberland, Estill, Floyd, Garrard, Harlan, Jackson, Johnson, Knott, Laurel, Lawrence, Lee, Leslie, Letcher, Lincoln, Madison, Magoffin, Martin, McCreary, Monroe, Owsley, Perry, Pike, Powell, Pulaski, Rockcastle, Russell, Wayne, Whitley, Wolfe