Leave this site safely
You can quickly leave this website by clicking the "X" on the right or by pressing the Escape key twice.
To browse this site safely, be sure to regularly clear your browser history.
Public School Education Rights
Kids, Teens & School Topics
Image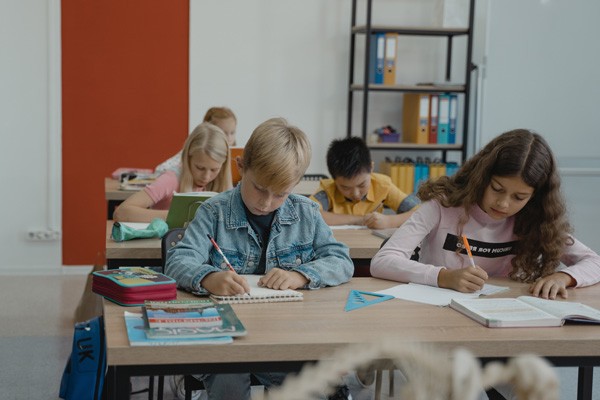 This content was last updated on 10/31/2023
What is needed to enroll in Kentucky public schools?

All children between the ages of 6 and 18 have to be enrolled in school. They need:

a legal birth certificate or other proof of their age and identification.
a current Kentucky immunization certificate on file. They need it within 2 weeks of enrollment. If the child's doctor recommends against immunization, they have to give written notice to the school. If the parents have religious objections, they have to give the school a sworn statement objecting to the immunizations.
proof of a preventative health care exam that was done within 6 months of entering into the Head Start Program and within 1 year before the child enters 6th grade
proof of an eye exam done between the ages of 3 and 6. The information needs to be on the Kentucky School Eye Exam Form. The form has to be given to the school district no later than Jan. 1 of the first year the child is enrolled
proof of a dental screening or exam. This exam can be done by a dentist, dental hygienist, physician, registered nurse, advanced registered nurse practitioner or physician assistant. The information has to be on a Kentucky Dental Screening Form and given to the school, documented on the Kentucky Dental Screening Form. This form must be presented to the school no later than January 1 of the first year that a 5- or 6-year-old child is enrolled.

Are school records private?

Yes, school records are private, or confidential. This means that these things are kept private:

data that identifies a person
information and records collected, used, or kept by the school district about a student
discussions about your child and their records

Only some people can ask to see school records. The school has to get written permission before they can let anyone see the records, unless it is someone in the list below.

Who can ask to see school records?

The following 4 groups of people can see school records:

Parents and guardians
School staff
Staff from the U.S. or Kentucky Department of Education on official business
Another school district (if your child transfers school)

Note: The parent or guardian has a right to ask for their children's records and can give those records to other people.

What are the special education requirements?

Under Individuals with Disabilities Education Act (IDEA), schools have to identify students with disabilities and provide free and appropriate education for these students. The education has to be individualized. This means it must be set up in a way that works for each student.

A parent or legal guardian can ask for an Individualized Education Plan (IEP), a 504 plan or an evaluation for services. Note: See the Special Education Section on this website for more information.

What kinds of school discipline are there?

Always look at your school's actual discipline code for the rules and regulations but, the following is a helpful general guide:

Suspension: The student is removed from school for a set amount of time, usually between 1-10 days. The days the student is suspended are recorded as unexcused absences.

• In-School Suspension: The student is allowed to go to school but they can't be in their regular classrooms.

• Out-of-School Suspension: The student can't go to school or be on school property for any reason. A student can receive an out-of-school suspension for up to 10 days, with a meeting about the behavior that broke the rules. NOTE:  The school must have a hearing for special education students to decide if the behavior is because of their disability. These hearings are called 'manifestation hearings.'
 

Expulsion: The student is permanently removed from their school, which usually means for the rest of the school year. Before expelling someone, the school board has to hold a hearing. At the hearing, the student hears the evidence against them and has a chance to tell their side of the story. Expulsions have to be reported to other schools during the expulsion period.  Expulsions will stay on the student's permanent record.
Was this info helpful?