Leave this site safely
You can quickly leave this website by clicking the "X" on the right or by pressing the Escape key twice.
To browse this site safely, be sure to regularly clear your browser history.
SNAP Benefits
Public Benefits Topics
Image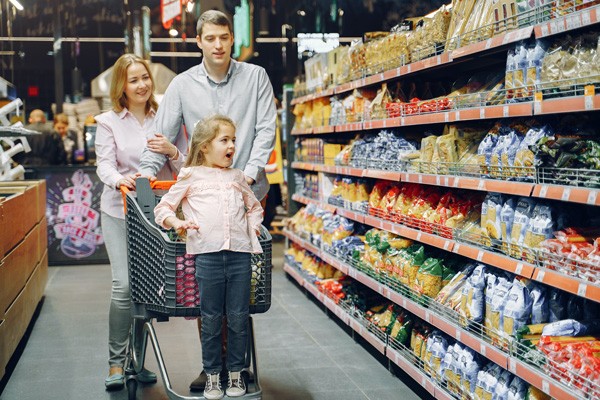 This content was last updated on 3/1/2022
Supplemental Nutrition Assistance Program (SNAP)
What is SNAP?

The Supplemental Nutrition Assistance Program (SNAP) used to be called food stamps. It helps low-income Kentucky families buy food. Many grocery stores and other retailers that sell food take SNAP as payment.

Who can get SNAP benefits?

Any household that meets certain basic income and other guidelines may be able to get SNAP benefits.

A household is any person, family or group of people who live together and buy and eat food together. For SNAP benefits, a household could be:

The spouse of someone living in the house
Parents living with their children who are under 21. The children can be biological, adopted or stepchildren.
Children younger than 18 who are dependents of someone living in the house

Adult children over 21 who live with their parents may be able to get their own SNAP benefits if they buy or fix meals separately from the other adults. Adult siblings who live together (but not with their parents) who buy and fix their meals separately may also have separate SNAP benefit accounts.

What are the basic rules about who can get SNAP benefits?

You must be a US citizen or a legal foreign resident
Anyone in the household, ages 18 –59 who is able to work, must register for, look for, and accept work that is offered.
A household can't have more than $2,250 in resources. This includes the amount that is in cash and bank accounts. If someone in the household is 60 or older, the household can't have more than $3,500 in resources. Your home, its contents, your personal belongs and your vehicles are NOT included in the calculation for household assets.
The amount of money that a household can get and still be eligible for SNAP benefits depends on your household size and money from wages or other payments to anyone who is a household member that counts as income.

You need to show proof of household income and expenses in order to get deductions.
Examples of proof can be things like:

pay stubs
social security letters
rent receipts
utility payment receipts
bank account statements

 

The final amount of benefits you get is based on your household size and income after deductions.

How do I apply for SNAP benefits?

There are 4 ways to apply:

Call the Department for Community Based Services Family Support (DCBS) office at 855-306-8959 to start an application.
Start an application online at: https://benefind.ky.gov/.
Apply in-person at any DCBS office.

Once they get your application, they contact you to set up an interview. The head of your household or an authorized representative must be interviewed before the application can be completed. An authorized representative is someone the household names to act on your household's behalf to complete the interview.

How do I know if I am approved for SNAP benefits?

After you file the application and go through the interview process, you get a notice within 30 days telling you if your household is approved. If your household is approved, you get a letter telling you the amount of benefits you will get and when you have to interview again to keep getting SNAP benefits.

Can I get SNAP benefits right away?

You might be able to get SNAP benefits sooner if:

your household's monthly costs for rent/mortgage and utilities are more than your gross monthly income. Gross income is the amount before taxes are taken out.
your household's gross monthly income is less than $150 and your resource stotal $100 or less. Resources are things like cash or bank account balances.
your household includes members who are destitute migrant or seasonal farm workers.

How are SNAP benefits used?

Your household's SNAP benefits are deposited into a SNAP account each month. Your household gets an Electronic Benefit Transfer (EBT) card in the mail. It comes with instructions on how to activate the card and how to choose a Personal Identification Number (PIN) so you can access your SNAP account. The EBT card works like a debit card not a credit card. You can only spend the amount that in the account. You can only use it to buy food for your household.

Sign the back of your EBT card right away. Your SNAP benefits can be used to buy almost any food, except ready-to-eat hot foods. You can also use your SNAP benefits to buy seeds and plants to grow your own fruits and vegetables.

You can't use your SNAP benefits to buy these items:

tobacco
alcohol
pet food
soap and other household products
medicines
other non-food items

What if my EBT card is lost, stolen or damaged?

If your EBT card is lost, stolen or damaged, report it by calling 1-888-979-9949. This phone number is available 24 hours a day, 7 days a week.

What if I disagree with a decision made about my SNAP benefits?

If you disagree with anything that happens in your case, you have the right to a fair hearing. But the time you have to object and ask for a fair hearing is often very limited! If you don't agree with a decision that DCBS made about your SNAP benefits, you must ask for a hearing within 90 days of the date you get the notice from DCBS telling you about the change. To ask for a hearing, you can

call 1-855-306-8959; or
write down the reason you are asking for a hearing, then sign and date the paper. You can take the paper to any DCBS office OR you can mail it to the following address:

Cabinet for Health and Family Services
Division of Administrative Hearings Families and Children Administrative Hearings Branch
105 Sea Hero Road, Suite 2
Frankfort, KY 40601

NOTE: Make sure you keep a copy of any written correspondence with DCBS for yourself.

If you want to keep getting the same SNAP benefits while you wait for a hearing, ask for the hearing within 10 days. You also specifically have to ask them that your current benefits continue.

At the hearing, you or someone in your household has a chance to tell a hearing officer why you disagree. If the hearing officer finds that a mistake has been made, you get the benefits that you were denied because of that mistake.

Are the things I buy with SNAP benefits taxed?

No. Federal law says that sales tax can't be charged on food purchases made with SNAP benefits. If your household buys food with a combination of food benefits and cash, sales tax can only be charged for the taxable items that you paid for with cash.
Was this info helpful?